The Potassium Sulfate Plant Equipment is for the Potassium Sulfate produced from Raw material Potassium Chloride KCL and Sulfuric Acid H2SO4 Reaction in Mannheim Furnace. The Main product Potassium Sulfate, By-product it is Hydrochloric acid.
We are specialized in the design, manufacture, installation and technology transfer of production guidance of potassium sulphate production equipment. Based on German Mannheim Furnace, by working over its principle and construction, we improve the construction and material of furnace to achieve even heating, complete reaction and low energy consumption. New material and technology is applied to the part of hydrochloric acid absorption, thus absorption efficiency is enhanced and environmental issue is also well resolved.
Process Description
The process for the manufacturer of Potassium Sulphate is based on following chemical reactions:
2KCl + H2SO4 -> K2SO4 +2HCl
The process involves following main stages: continuous reaction of Potassium Chloride and Sulfuric Acid in vertical indirectly heated the furnace equipped with central mixing device. Potassium Sulphate produced is neutralised with Calcium Carbonate, cooles and stored before conditioning.
Hydrochloric gas escaping from the oven is cooled down and absorbed into washing towers. Hydrochloric acid is concentrated to 31-33%.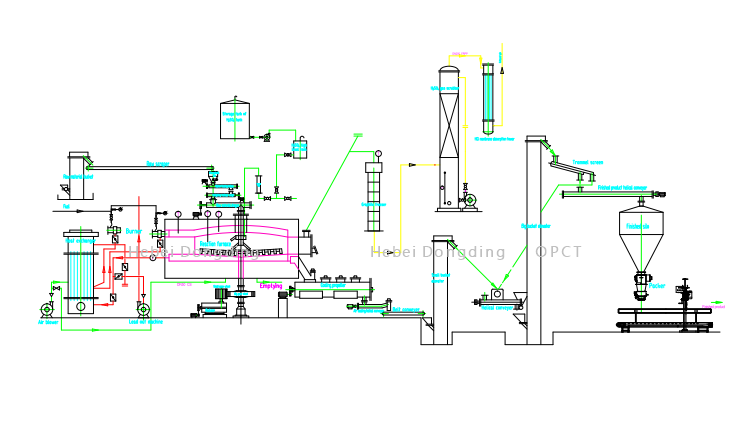 Capacity & Quality (see table)
Capacity as required by client.
Typically 10000MTPY per Mannheim Furnace.
Potassium (K) fertilizers are often added to increase the yield and quality of plants grown in soils that lack an adequate supply of this essential nutrient. Most fertilizer K comes from ancient salt deposits around the world. The term "potassium fertilizer" is a generic term that most commonly refers to potassium chloride (KCl), but it also applies to all other potassium-containing fertilizers, such as potassium sulfate (K₂SO₄, commonly known as potassium sulfate or SOP).

At HEBEI DONGDING, we always recommend potassium sulfate equipment over potassium chloride.
Protassium is a bi-nutrient fertilizer containing 50% potash and 18% sulfate. There are two main sources of potassium in the fertilizer industry: SOP and potassium chloride. Because over-application of chloride can cause damage to crops and can lead to loss of income due to reduced yield and quality. Excess chloride can also leach calcium from the soil, causing crops to require more fertilizer. Unlike other potassium sources, SOP contains virtually no chloride and also provides sulfur to support plant yield and quality.
| | |
| --- | --- |
| Production Specification | Typical |
| K2O content | ≥50.0% |
| Cl- content | ≤1.0% |
| Humidity | ≤1.0% |
| Free acid (in H2SO4) | ≤0.5% |
| Water in Solution | ≤1.0% |
| Particle Size | 0.1mm-0.2mm |
| | |
| --- | --- |
| Specification Consumption | Typical |
| KCl (<1mm) 97% | 0.860 T/T |
| H2SO4 98.5% | 0.575 T/T |
| CaCO3 (fine) | 25 Kg/T |
| Electric Power | 50-70 KWh/T |
| Natural Gas | 55-65 Nm3/T |
| Cooling Water (18℃) | 90 m3/T |
Proceed Advantages & Features
* Efficient and reliable technology
* Low capital cost
* Premium product with low chloride SOP≤1.0% Cl-
* According to local conditions, HCl can be:
· Sold on local market
· Neutralized
· Further processed to CaCl2, DCP, PPA, TSP, PAC, FeCl3 or others
Scope of Supply & Service
* Project management
* Pres-feasibility and feasibility study (bankable file)
* Know-how, basic and detailed engineering
* Equipment delivery
* Start-up and commissioning
* Personnel training
Application