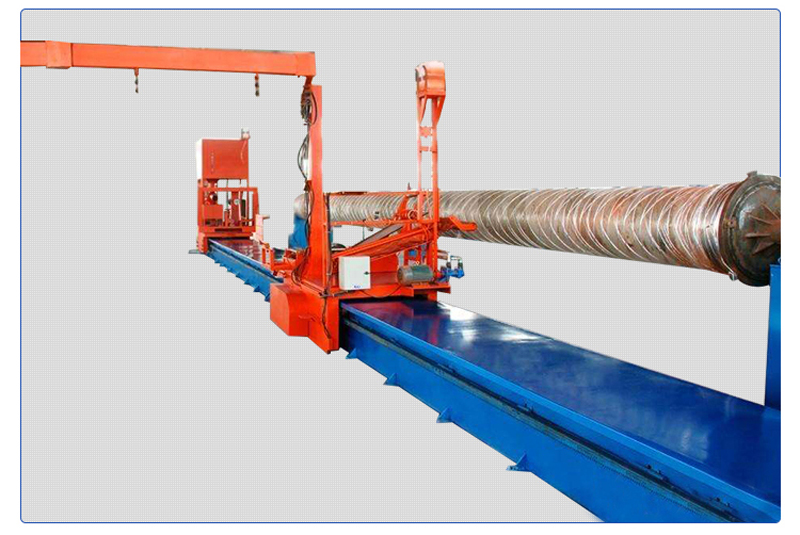 GRP FRP pipe winding production line is used to produce various size and specifications of FRP mortar pipe and FRP process pipe.
FRP Filament Winding Machine's key elements such as the transducer, servo system and photo electrical encoder are from Siemens, Germany. Showing the English ideograph in menu, operating easily, after the parameters inputted into the computer, it can be finished the relative design of winding linearity. The combined movements of the main axle and the carriage controlled by the computer, conforms the winding rules, the technical parameters and its inner quality have arrived the advanced level in China.
The range of diameter can be wound: DN300~DN4000mm
The maxi length: 12m
The winding angle: 45°~ 90°
The total power: 10Kw
The tolerance of positioning:<1mm
The maxi width of roving sheet: 150mm
The productivity: 500kg/h
Process flow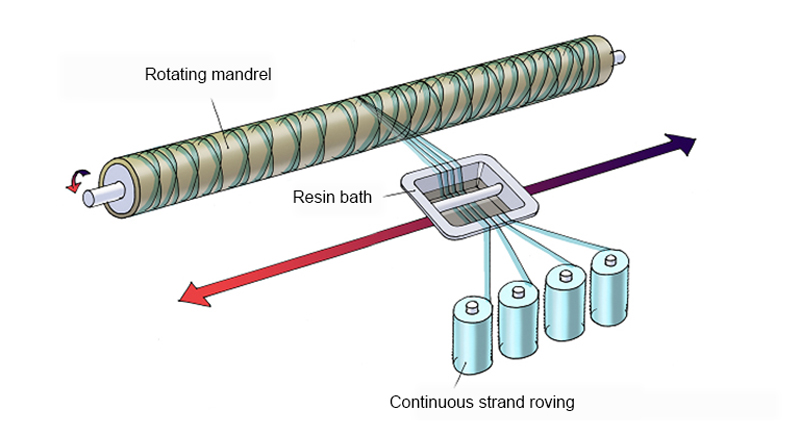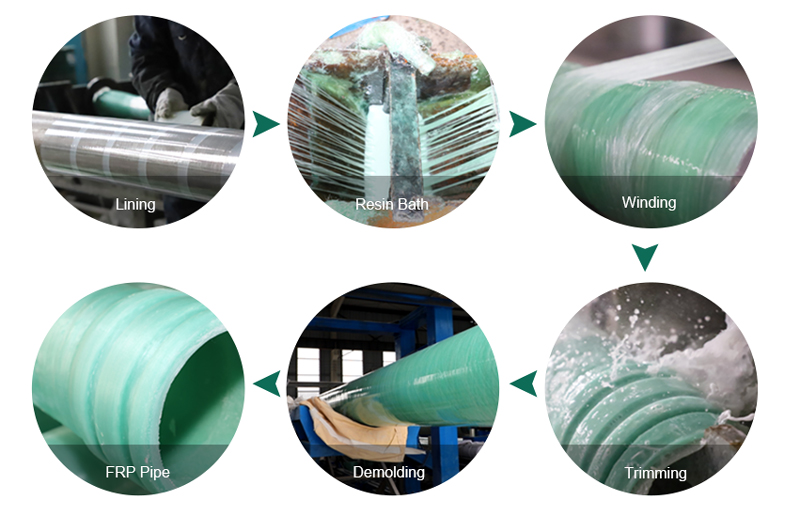 Make lining
Put the pipe mould on the make lining station, on the pipe mould winding a layer polyester film, then spread on a layer gel coat, after the layer gel, then winding the glass fiber surface mat and glass fiber chopped mat, then winding the mesh fabric, then hang the lining and mould to the curing station to curing for the lining layer. The lining resin uniform distribution under the rotating function, so make the lining level and smooth, easy to put out the bubbles in the resin.
Winding
After the lining station, put the pipe mould on the winding station, put the alkali-free winding roving that impregnating resin according to the design procedure and progress spread payer winding on the lining layer, proceed the fiber cross winding and ring winding. The outer resin all should join ultraviolet ray absorbent and use polyester film press polish, it can make the product outer surface smooth, beautiful, also can have the anti-aging function. Then hang the pipe and mould to the curing station do the curing of the structural layer.
Repairing
After the winding pipe curing completely, put it on the trimming station, coping with the pipe two ends, after meet the requirements, put the pipe on the mould unloading machine, pull out the pipe finished product from the pipe mould, GRP pipe the whole process completed, and hand over to the inspection process.
Mould unloading
After the pipe finished cure to start mould unloading.